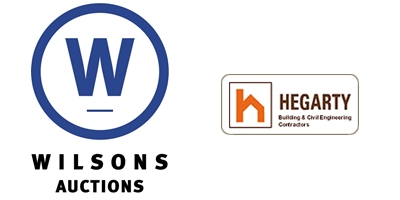 Recently, we were asked by Wilsons Auctions to add a temporary broadband link to facilitate their Online Auction Services for PJ Hegarthy in Cork.
The location of the rostrum was about 150 metres away from the main network cabinet, with no network connectivity. In an ideal world Fiber or Wireless LoS would be the perfect candidate, but cost followed by its temporary residence there made this an nonviable option. A plan to use a 3G router was discussed but the location was in a "patchy" area for receiving a solid 3G connection.  Latency is also an additional issue when using 3G.
We decided to grab a spool of outdoor CAT 6 cable and run it across the yard as it was only needed for the next three days.  The first hurdle was the entrance to the yard where trucks regularly pass through, no ducts were available.  There was a CCTV pole and a crane 20 metres across from it. We wrapped 10mm rope around the CAT6 cable and tied the rope between the 2 points, providing ample clearance for the passing trucks.  The rope helped stabilize the CAT6 cable and reduced the possibility of it snapping from it's own weight.
Once across, we routed the remainder of the cable across the yard, terminated it and checked the signal with our Fluke Network Tester.   We knew that there would be potential issues going past the CAT6 cables 100metre threshold; we tested the link by pinging Google.ie and could see substantial packet loss (we lost 30 of the 50 ping packets sent ).
Next step was to drop the connection speed to 10 Mbps (which was more than sufficient for the end users needs) and re-run the connection tests.   This can be done via the Advanced Properties section of the Network Card in question.
Once the speed was dropped to 10mb, we had no issues with packetloss – 5,000 successful pings with 0% loss.  Our client ( Wilsons Auctions ) tested the VPN connection, making sure that the Remote Desktop Session to their site was fast and reiable.  As presumed, the connection was both reliable and fast – exactly what our client, Wilsons Auctions, required.
The temporary installation of a network line to the "rostrum" proved to be a success for both PJ Hegarty's and Wilsons Auctions as the majority of online bids had outbid most of the bids that were made onsite.